Potato crepes /pancakes;  tasty, sweet, savoury and spicy 
And most importantly quick and easy to prepare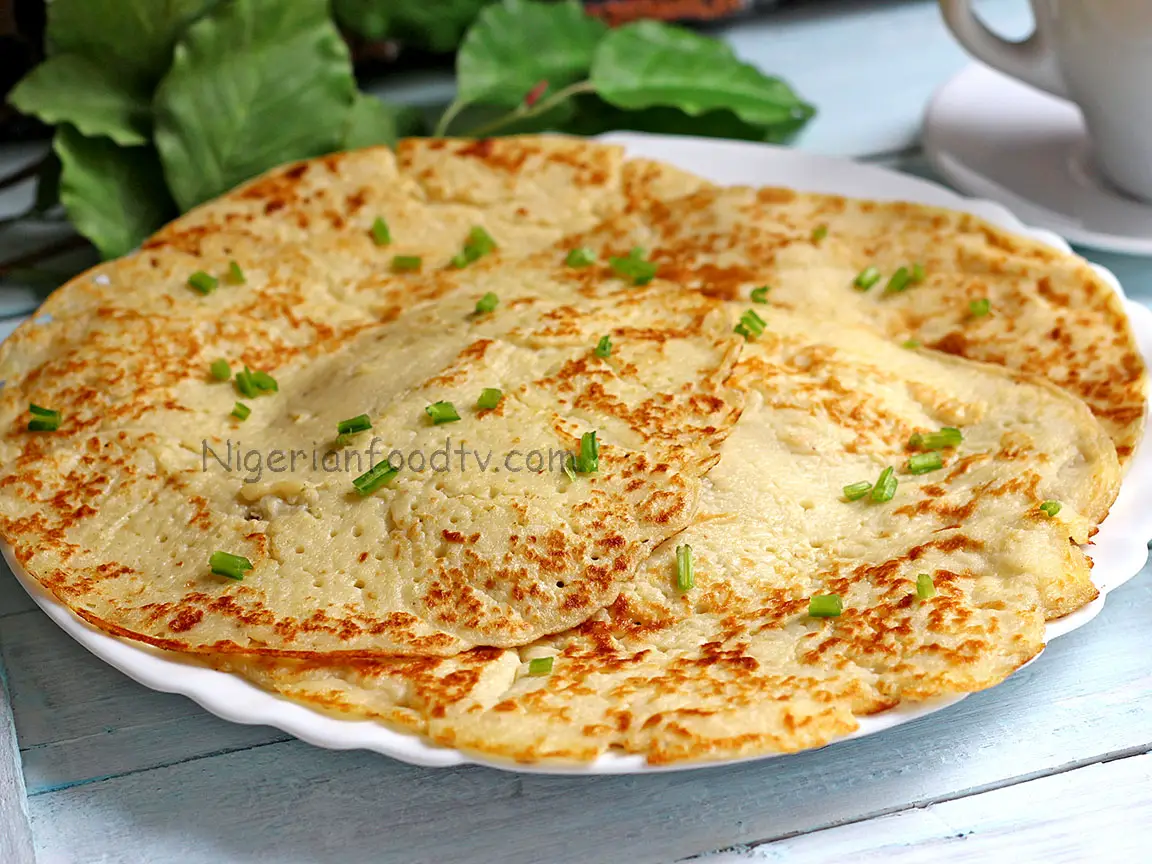 Potato crepes was first introduced to my family  a few years ago , by our Indian friends. 
It is quite easy to prepare , sweet, savoury and spicy to taste. You can also prepare it with leftover potatoes
In south asia, it is very common to see this crepes served as breakfast or alongside a full meal. It is actually known as Aloo Tikki and can be prepared in so many ways , depending on family preference .
I prepare mine like my regular Nigerian pancake  but with the addition of boiled potatoes.  This is one way you can introduce potatoes into your diet, if you must have it.
And my family like it stuffed just like in the photo below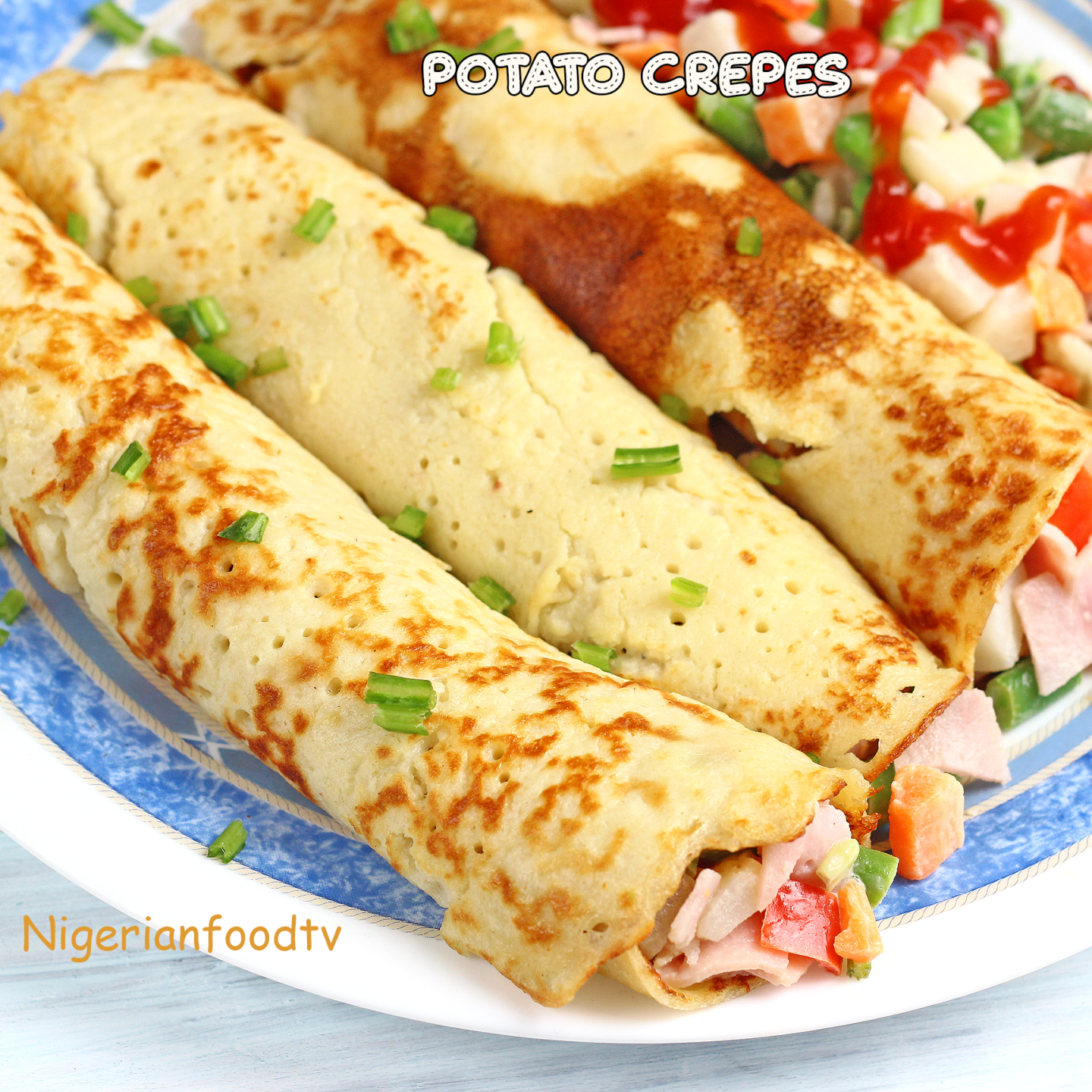 Honestly, I am not a big fan of  yellow potatoes, but this potato crepes made me a follower.
So if you're like me or maybe you love potatoes, this potato crepes will surely get your taste bud rolling.
–
Potato Crepes/ Pancake Ingredients:
-2 potatoes
-2 eggs
-2 Tbsps Softened Butter
-3 to 4 Tbsps Sugar
-1 Tbsp minced Onion
-1/4 tsp each of chilli pepper, salt and nutmeg
-300ml or 200ml whole milk or 200ml if you want it thicker
– 6 Tbsps plain flour
-Oil for frying
WATCH VIDEO BELOW ON HOW TO MAKE POTATO CREPES /PANCAKE
How to make POTATO CREPES (POTATO PANCAKE)
-Boil the potatoes until tender. Then Peel and mash potatoes and  transfer into a large bowl
– Crack in 2 eggs. Add 2 Tbsps Softened Butter , Add 3 to 4 Tbsps Sugar, Add 1 Tbsp minced
Onion, Add 1/4 tsp each of chilli pepper, salt and nutmeg(optional)
– Add 300ml whole milk or 200ml if you prefer a thicker pancake . Mix until combined
– Add 125 gr (6 Tbsps plain flour). You can blend the batter to make it smoother and without lumps
– Heat up a teaspoon of oil in a pancake pan or regular nonstick frying pan. Spread oil around the pan
and pour in some of the Pancake / Crepes batter
– Cook one side of the Pancake on low heat for 30 seconds, flip over and cook the other side
– Repeat process again and again, until you exhaust all the potato pancake or crepes batter
– Serve and enjoy flat of filled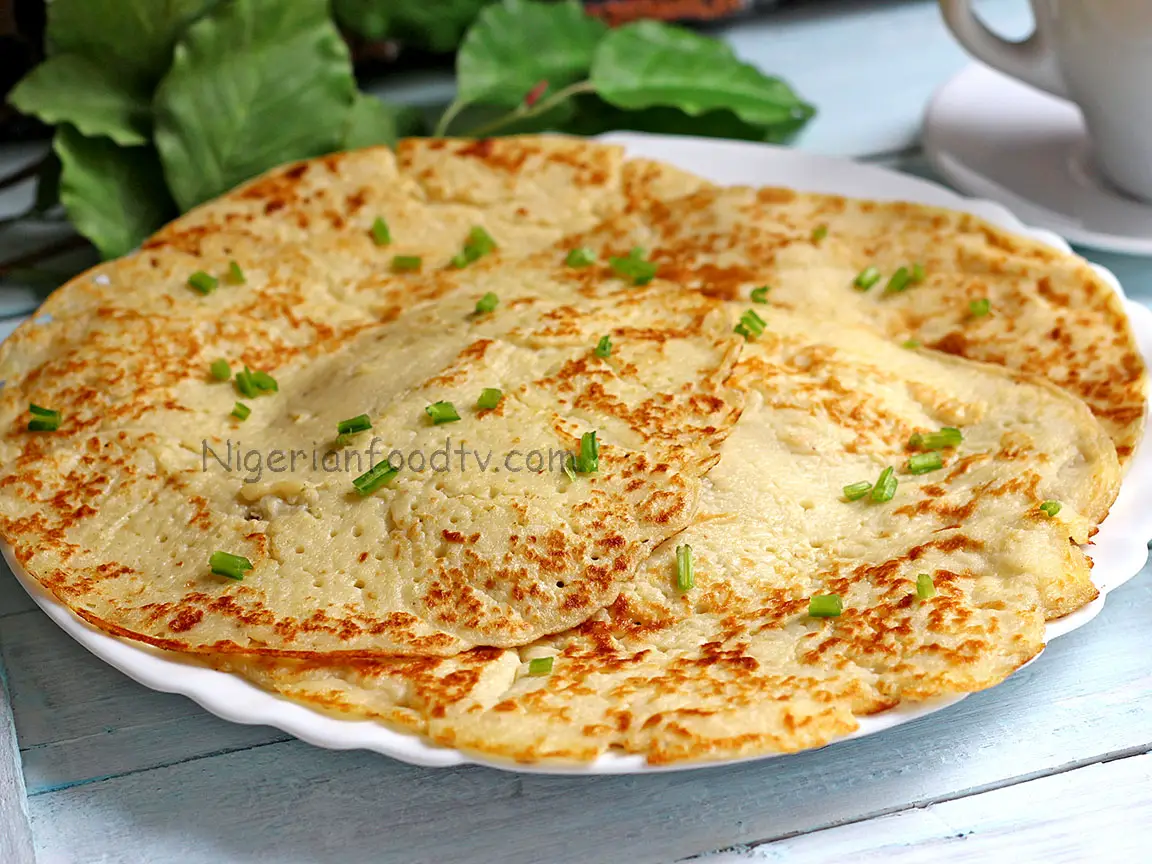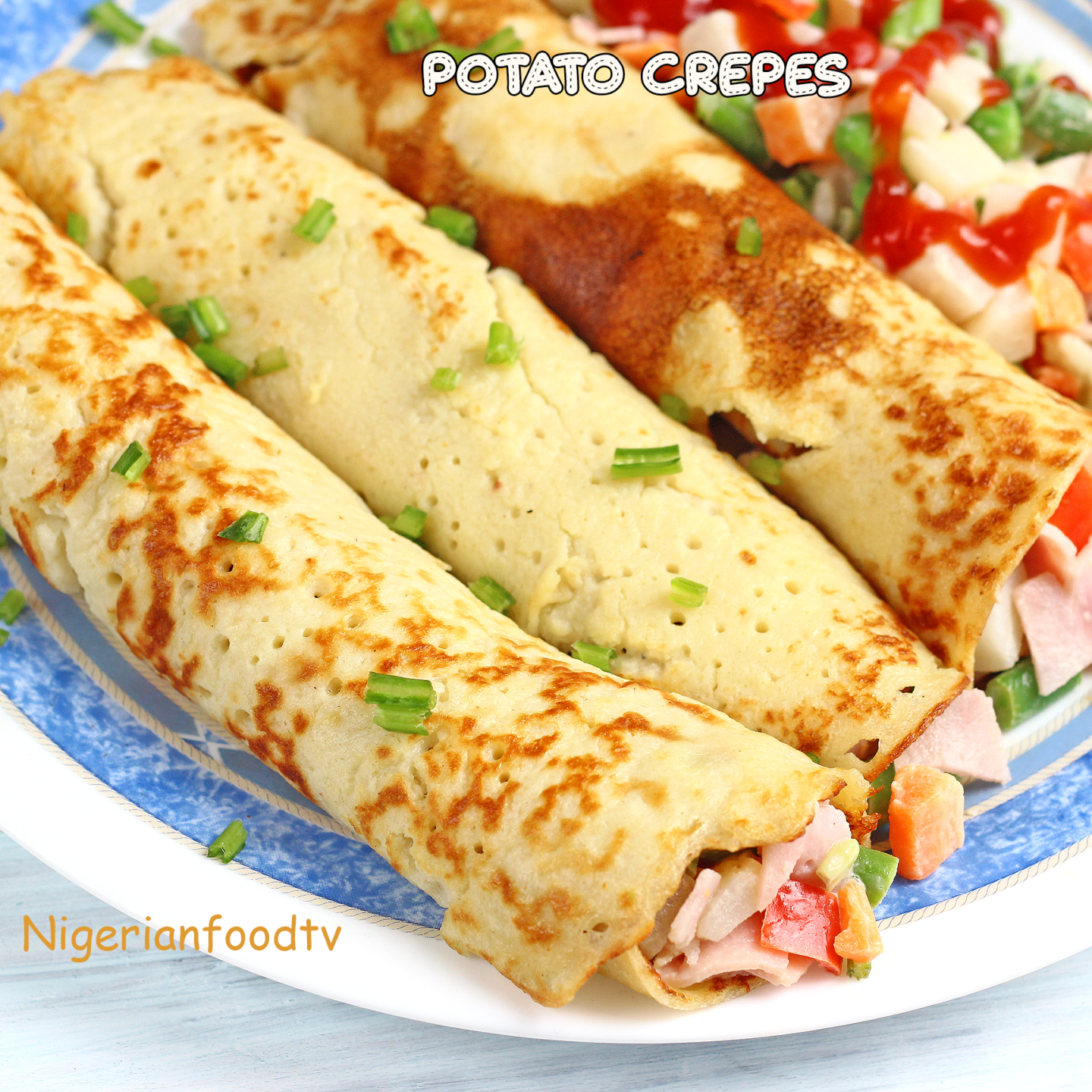 More Pancake/crepes recipes:
Potato Crepes Pancake recipe
Ingredients
2 potatoes
2 eggs
2 Tbsps Softened Butter
3 to 4 Tbsps Sugar
1 Tbsp minced Onion
1/4 tsp each of chilli pepper, salt and nutmeg
300ml or 200ml whole milk or 200ml if you want it thicker
6 Tbsps plain flour
Oil for frying
Instructions
-Boil the potatoes until tender. Then Peel and mash potatoes and  transfer into a large bowl

- Crack in 2 eggs. Add 2 Tbsps Softened Butter , Add 3 to 4 Tbsps Sugar, Add 1 Tbsp mincedOnion, Add 1/4 tsp each of chilli pepper, salt and nutmeg(optional)

- Add 300ml whole milk or 200ml if you prefer a thicker pancake . Mix until combined

- Add 125 gr (6 Tbsps plain flour). You can blend the batter to make it smoother and without lumps

- Heat up a teaspoon of oil in a pancake pan or regular nonstick frying pan. Spread oil around the panand pour in some of the Pancake / Crepes batter

- Cook one side of the Pancake on low heat for 30 seconds, flip over and cook the other side

- Repeat process again and again, until you exhaust all the potato pancake or crepes batter

- Serve and enjoy flat of filled
Notes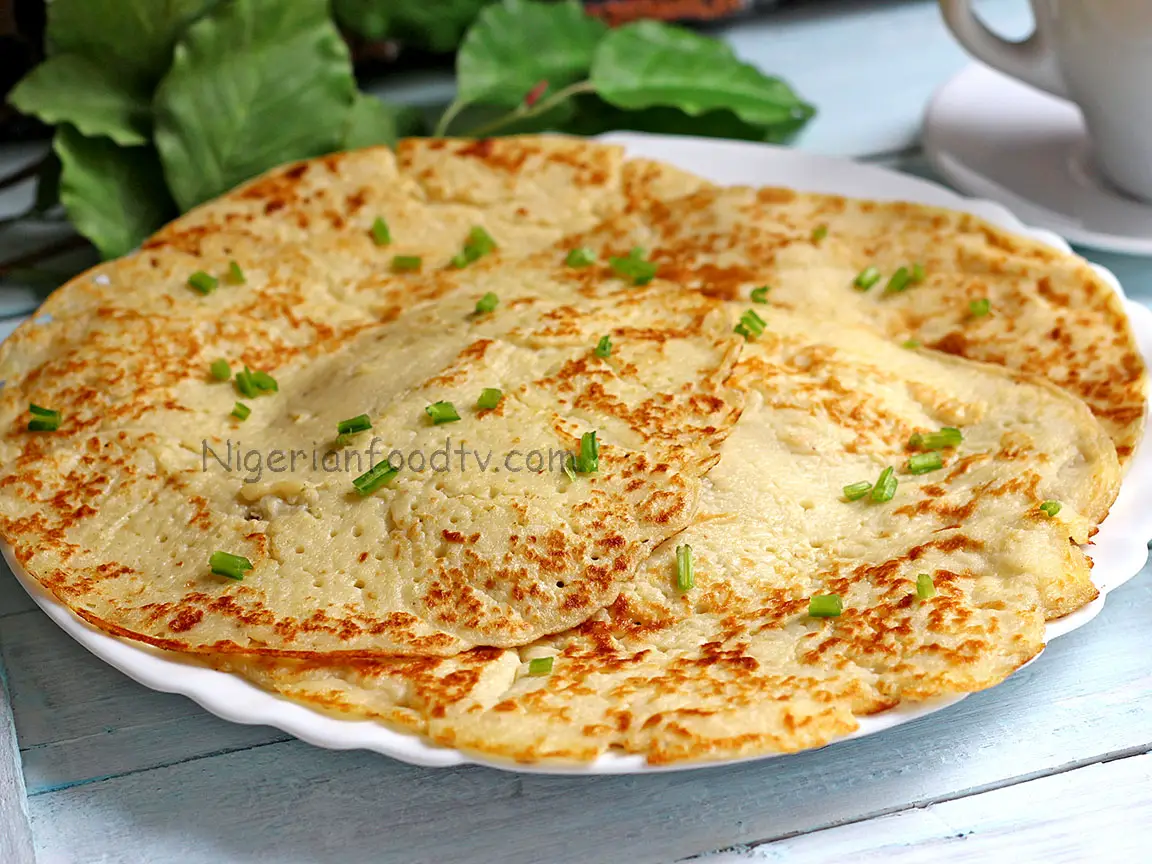 More Pancake/crepes recipes: