Nigerian Pepper soup
Nigerian Pepper Soup is a broth-like savory and spicy  soup made with assorted meat/fish/poultry and some "hot" local spices.
This is one of the sought after Nigerian oups and is usually named  based on the type of meat (protein)used in cooking it.
The recipe below, is the Assorted cow meat epper soup, you can also check out the recipe for Goat meat pepper soup and  Catfish peppersoup(point and kill)
Ingredients for Nigerian Pepper Soup : Assorted Cow Meat Pepper soup
*500 g Assorted Cow(tripe, heart, liver&muscle)…cut into small pieces
*2 tablespoonful pepper soup spice mix
*Habanero/Chilli Pepper (to taste)
*2 teaspoonful  Dry Uziza/basil leaves (optional)
*1 tablespoonful of ground Crayfish
*2 Stock cubes /stock powder(maggi or knorr e.t.c)
* 1 teaspoon thyme (optional)
*1 medium Onion bulb(chopped)
* Salt – to taste
*Water (as needed)
Quick Note:  I  always make my own pepper soup spice mix but in the absence of these spices, you can make use of only roasted Calabash Nutmeg a.k.a Ehu /Ehuru/Ariwo after peeling off the roasted skin.

Preparation
* * If you don't have the pre- packaged pepper soup spices, you can prepare you own pepper soup spices  by following the recipe HERE.
1.  First, clean and cook the toughest meat firstwhich is usually the cow foot and tripe (shaki). Add salt and thyme, pour enough water to cover the meat and leave to cook for 35 minutes on medium heat.
Tip: The thyme is optional, so you can leave it out if you want to. 
2. After 35 minutes, stir and add the cow heart. Cook for 10 minutes and then add the muscle(fuku) and the liver. Stir well and add more water to cover the meat.
3. Add the chopped onions and  stock cubes. Cover and cook for 5 minutes.
4. Next, add the ground pepper, ground crayfish, uziza/basil leaves ,the  ground pepper soup spices, mix thoroughly and cook for 5 minutes or until the assorted meat are well cooked.
5. Now the pepper soup is ready . Serve hot and enjoy.
 Nigerian Pepper Soup can be served alone as a side dish, or eaten as a meal, with Eko (agidi), Agidi jollof, boiled yams, boiled potatoes, boiled white rice and boiled plantains.
** Don't forget to check out therecipes for Goat meat pepper soup, Catfish peppersoup, Nigerian Yam and Fresh Fish Pepper Soup , and Ji Mmiri Oku (Yam and Dried Fish Pepper Soup Porridge).
☺ Thanks for your readership,comments and feedback.
Please Stay updated on facebook,subscribe and also watch Nigerian Food TV videos for detailed video recipes ☺
Other Related Recipes
* Bitter leaf Soup (Ofe Onugbu) 
* Nigerian Beef Stew
* Banga Soup : Urhobo Isoko Banga Soup Recipe
* Nigerian Chicken Stew
* How to Cook Okazi Soup (Ukazi Soup)
* Obe Ata Dindin : Nigerian Fried Pepper Stew
* How to Cook Edikang Ikong Soup
* Nigerian Tomato Stew(Vegan Stew)
* How to Cook Afang Soup
* Nigerian Pepper Soup
* Nigerian Ogbono Soup :How to Cook Ogbono  Soup
* Nigerian Fish Stew (Obe Eja Tutu) 
* How to Cook Nigerian Egusi Soup(Ofe Egusi/Obe Efo Elegusi)Nigerian Pepper Soup is a broth-like savory,spicy,hot Soup.Learn how to prepare this aromatic Nigerian soup.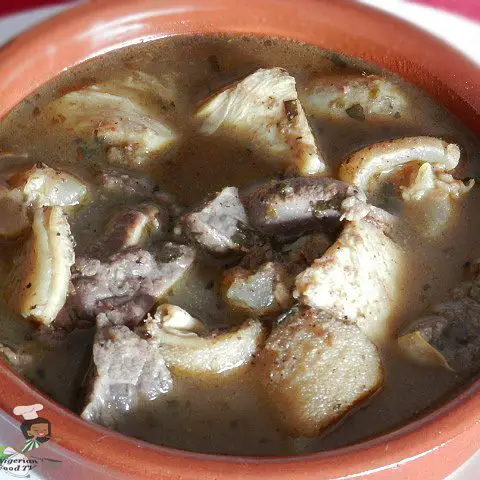 Nigerian Pepper Soup : Assorted Cow Meat Peppersoup
Nigerian Pepper Soup is rich, spicy and what you need for a chilli day or just to hang out with friends and family
Ingredients
500 g Assorted Cow(tripe, heart, liver&muscle)…cut into small pieces
2 tablespoonful pepper soup spice mix
Habanero/Chilli Pepper (to taste)
2 teaspoonful Dry Uziza/basil leaves (optional)
1 tablespoonful of ground Crayfish
2 Stock cubes /stock powder(maggi or knorr e.t.c)
1 teaspoon thyme (optional)
1 medium Onion bulb(chopped)
Salt – to taste
Water (as needed)
Instructions
 First, clean and cook the toughest meat firstwhich is usually the cow foot and tripe (shaki). Add salt and thyme, pour enough water to cover the meat and leave to cook for 35 minutes on medium heat.
After 35 minutes, stir and add the cow heart. Cook for 10 minutes and then add the muscle (fuku) and the liver. Stir well and add more water to cover the meat.
Add the chopped onions and  stock cubes. Cover and cook for 5 minutes.
Next, add the ground pepper, ground crayfish, uziza/basil leaves ,the  ground pepper soup spices, mix thoroughly and cook for 5 minutes or until the assorted meat are well cooked.
Now the pepper soup is ready . Serve hot and enjoy