Nigerian spring rolls is a very popular snack, usually called a "small chop" and served as an appetizer at parties and other festive occasions.
There are several varieties, but the most popular one is filled with minced chicken and vegetables and wrapped in a spring roll wrapper. Here's an easy recipe to follow. Enjoy!

Nigerian Spring Rolls ingredients:
300 grams minced chicken breast- 250g cabbage, finely shredded/grated
4 medium sized carrots, peeled, grated- 100ml Chicken stock- 1 finely cut green bell pepper
A handful of green peas
1 small onion, minced or finely sliced
Spices (stock cubes, curry, black pepper)
Vegetable oil for frying
15 Spring roll wrappers( click here  for how to make homemade Spring roll wrappers)
For the "binder"(flour mix):
1 tablespoonful all purpose flour
3 tablespoonful of  cool water
Preparation for Nigerian Spring Rolls 
1.  Place the grated cabbage into a pot, add the chicken stock and salt to taste and boil until the cabbage is tender. In the absence of chicken stock, you can make use of 2 stock cubes, salt and a little water.
2.  Add the grated carrots and the green peas and simmer until the carrots are tender. Then pour into a strainer and strain out the liquid from the vegetables.
3.  In a pan, heat up a cooking spoonful of vegetable oil, add the minced onions and garlic powder and fry a bit. Then add the minced chicken.
4.  Stir fry the minced chicken until the color changes from pink to white. Then add the stock cube(stock powder), curry powder, black pepper and mix thoroughly.
5.  Now add the strained vegetables and mix well into the chicken. Add the chopped green peppers and stir fry the mixture for just 2 minutes (remember that the veggies are already cooked). Put off the heat and leave to cool completely.
6.  In a small bowl, add a tablespoon of flour and a little water. Mix thoroughly and set aside. This would be used to bind the spring roll wrappers.
7.  Spread out the spring roll wrappers  and add the filling. Fold together and seal the edges with the "binder".
8.  Heat up the oil until very hot and fry the spring rolls until crusty and brown. Place a paper towel to drain out excess oil .
 You can also bake in Preheated oven at 200°C, for 10-15mins , to do this, place the spring rolls on a baking tray, brush with a little oil and bake.
Nigerian spring rolls are served with other small chops at parties, but you can also enjoy it at home with stew or pepper sauce.
++click to see how to make spring roll wrappers++
Here's another variety of Spring roll you would surely love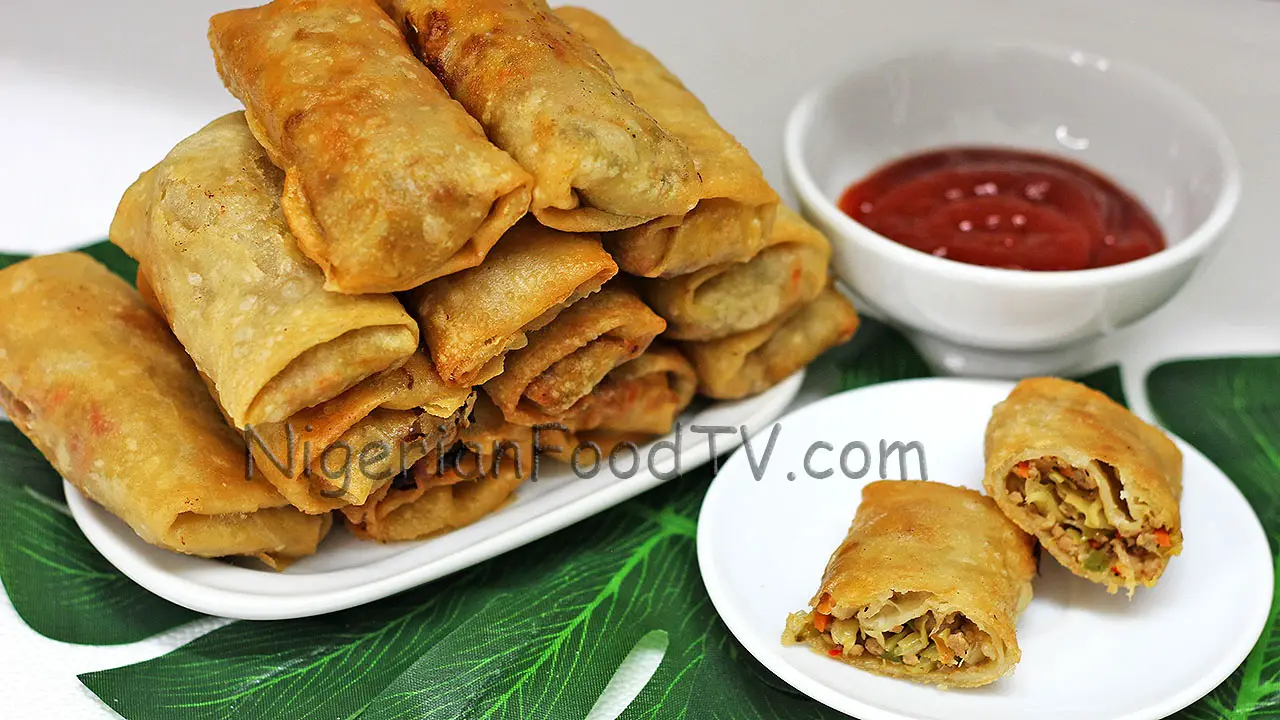 You might also like our samosa recipe
Other related recipes :
Nigerian Spring Rolls served with a tasty dip