Agege Bread- The Nº1 Nigerian Bread
Agege bread recipe, yay, at last! Right?
Agege bread is one of the most popular Nigerian bread, known for its soft, stretchy and chewy texture.
   In dad's bakery, bread was made with chemical dough improvers and preservatives such as (Edc 2000, E-281 &E-202). These chemicals give the bread its unique stretchy texture, but are usually sold in large quantity for industrial use.
Dad is now with the Lord, and mom wasn't so sure of how to get that chewy feel without confectionery additives. So I had to turn to thefreshloaf and Christine's recipe where I learnt about "Scalded flour" and "Tangzhong" .
And after trying them, I can assure you that, these are two of the best natural dough enhancers you will ever find.
Not only do they enhance the dough, they also serve as natural preservatives and keep the bread, soft and stretchy for  3 to 4 days.
**click to know more about these dough enhancers**
Update 2019: For this bread  here , I made use of the '' Scalded flour" method. But in recent times I have been interchanging it with the "Tangzhong" method because it is more dependable , no matter the weather condition (heat or humidity).
—The picture below are breadrolls made with Tangzhong method-—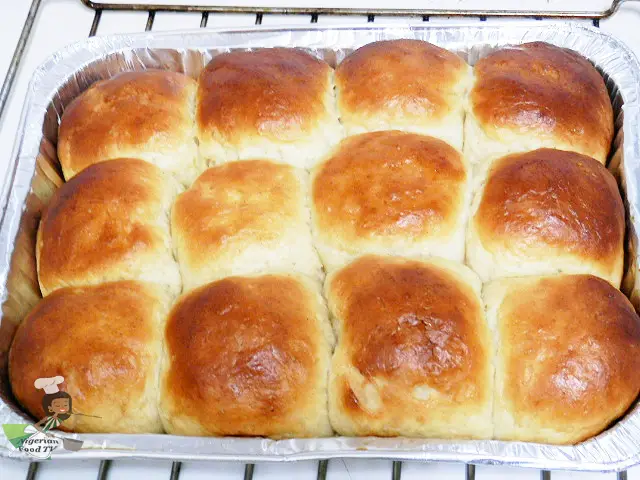 Makes one 9 by 4 inch loaf or  three 3 by 4 inch(like mine)
Ingredients
For the Main Dough:-
350 gr Bread Flour/Plain flour (bread flour makes a more chewy bread)
30 gr Bread Flour/Plain flour (for kneading)
50 gr Sugar- 1 teaspoon Salt
7 gr instant dry Yeast(2 &1/2 teaspoon)
140 ml lukewarm Water/Whole Milk, adjust as needed
50 gr Butter, at room temperature(cut into smaller pieces)
For the Scalded flour Dough enhancer:-
100 gr Bread Flour/Plain flour
100 ml boiling water
Tools:
2 bowls
A bread pan
A plastic dough scraper
Tip for using milk:
– Milk is not added to agege bread, but since it is a homemade bread, you can add a little to make the bread richer and softer, so if you'll like to use powdered milk, dissolve 2 heaping tablespoonful in  the 140 ml water used in the recipe.
 If you're using evaporated milk(peak milk) add 4 to 5 tablespoonful in 130 ml water.
 Steps
To prepare the Scalded flour Dough enhancer:
a. Pour all the boiling water into a bowl containing the 100gr bread flour.
b.  Stir the mixture quickly until well combined, then cover with a lid or cling film and leave to cool to room temperature(takes about 1 hour depending on the weather).
Don't worry if the dough looks rough, after 1 hour the flour would have absorbed all the water and look smoother.
Tip: the scalded flour is usually left for 12 hours before use, but I always get the same results if I use it after 1 hour.
 Now to prepare the main dough:
1. Sift the bread flour into a wide bowl. Add the sugar, salt and the instant dry yeast, and mix well.
Tip: if you're not sure about the potency of your yeast, you can proof/test it by combining the yeast, water and sugar together in a bowl. Leave for 10 minutes or until it starts to foam, form bubbles and look creamy. Then add it to the flour, but if it doesn't foam, you know the yeast is bad.
2. Now, make a well in the center of the bowl and pour in the prepared scalded flour and gradually add the lukewarm water/milk; mix together until you get a slightly sticky dough.(
Let the dough sit for 10 minutes, so that the flour will completely absorb the liquid you used.
3. Then transfer the sticky dough, onto a lightly floured table.
Knead for about 20 minutes, using the "stretch, slap and fold method"(in this method the sticky dough is stretched, folded over itself, lifted up and thrown back down onto the table  repeatedly until the dough is less sticky and elastic)… you'll need a scraper to help bring the sticky dough together while kneading.
The dough will be very sticky at first, but keep on kneading, and incorporating as little flour as possible. Too much flour will result in a hard bread. So resist the urge to add more flour.. use the scraper to remove sticky flour from your fingers.
 4. Now, knead the butter into the dough for another 20 minutes until well incorporated and you get a soft, smooth and stretchy dough that does not break easily when stretched.
This is surely a lot of work, but one with a benefit.(At this stage you'll notice the difference in the texture of the dough).
Tip: the oil/butter stops the formation of gluten, that's why it is added last, after the gluten has been formed.
If you have a dough/ bread machine you can use it. Knead on medium speed for 30 minutes, using the dough hook , until you get a smooth and stretchy dough.
For a food processor, knead for  3 to 5 minutes and check the doughs elasticity every 30 seconds.
5. Form the now elastic dough into a ball, place in a greased bowl, cover with a cling film or damp towel and leave to rise until doubled in size(takes about 1 hour or more, depending on the weather).
6.  After 1 hour, punch down on the risen dough and transfer to the work surface. Divide the dough into small rough balls.
I divided mine into 4 (3 for the loaf pan and 1 for my daughter to practice with).
Then cover the balls with a damp cloth and leave to rest for 10 minutes, while you grease the pan you'll be using.
7. Now shape each of the balls into a long roll and place in the greased pan.
If you'll like to shape it like mine, then using a rolling pin or your hands(because the dough might be a tad bit sticky), roll out each ball into a long oval shape. Join the 2 sides together;
And pinch up the meeting point, then turn over, so that the seam(closure) is facing down; then flatten with the rolling pin and roll up the dough, just as you see in the pictures below.
8. Place the shaped dough into the pan, cover again with the damp cloth or cling film and let it rise again for another 1 hour or until it doubles in size or almost reaching the top of the pan.
9. Preheat the oven for 5 minutes at 180ºC  (370ºF).10. Finally brush the risen bread with egg wash(raw egg+2 tablespoon water) or melted butter(to give it glow/shine) and bake in the preheated oven for 30 minutes or until done(when it is golden brown).
Take out of the oven, leave to cool a bit and transfer onto a rack.
And now you have a yummy Agege Bread, to enjoy with Ewa Agoyin, Akara or any other meal or beverage of choice.
Please let me know what you think and I'll be expecting your feedback if you try this recipe 🙂
Also check out our other bread  and cake recipes.