Nigerian Fish Rolls in rolls ..yummy!
Nigerian Fish Roll ,showing fish filling
Nigerian Fish Rolls is a deep fried crispy Nigerian snack made with flour, margarine, eggs and baking powder, and then filled with mashed spiced fish.
I love easy recipes and this is just one of my favorite Nigerian snacks; easy to prepare and simply delicious…here's the recipe 🙂
If you like videos, this is detailed video on How to make this classic Nigerian Fish Rolls
…SEE NEW AND UPDATED FISH ROLLS RECIPE HERE WITH STEP BY STEP PICTURES AND VIDEO-—

Nigerian Fish rolls ingredients:
 For the Fish rolls dough/pastry:
350 grams Flour
100 grams margarine
1 raw egg
1 teaspoonful baking powder
1/2  teaspoonful salt
1 tablespoonful sugar(optional, if you want it savoury and not sweet)
1/2 cup water (or enough to get a  smooth, firm dough)
For the Nigerian Fish Rolls Filling:
Fresh mackerel fish or canned mackerel or tuna
1 tablespoon grated or minced onions
Vegetable oil for frying
Quick note: The classic old school recipe doesn't add sugar, but you can add sugar to the dough and also spice up the fish to get a tastier modern flavor.
Making the Nigerian Fish Rolls :
1. First, season the fresh fish with a little salt and fry lightly in hot oil or boil or roast; then take out the bones and mash well with the minced onions.
You don't have to fry the canned fish, simply mash it and add some grated or minced onions
2. In a bowl , add the flour, salt, baking powder and margarine; Mix well , add the egg and mix thoroughly.
3. Now, add the water bit by bit, and knead the dough until you get a smooth but firm dough.
4. Next, place the dough on a flat board/table and cut out a bit. Using a rolling pin, roll out the small dough until it's flat and then cut to form a rectangular shape.
5. Now add the mashed fish and fold/roll the dough. Keep rolling it until you get the length you desire.
6. Heat the oil until hot (not smoking hot) and fry the fish rolls on low heat until it's crusty and brown.
7. Now the fish rolls are ready…Enjoy!
Nigerian Fish Rolls are a big favorite and usually eaten on its own as a snack or enjoyed with a chilled or hot drink.
…THE IMAGE BELOW IS THE UPDATED VERSION OFTHE FISH ROLLS RECIPE, YOU CAN CLICK TO SEE IT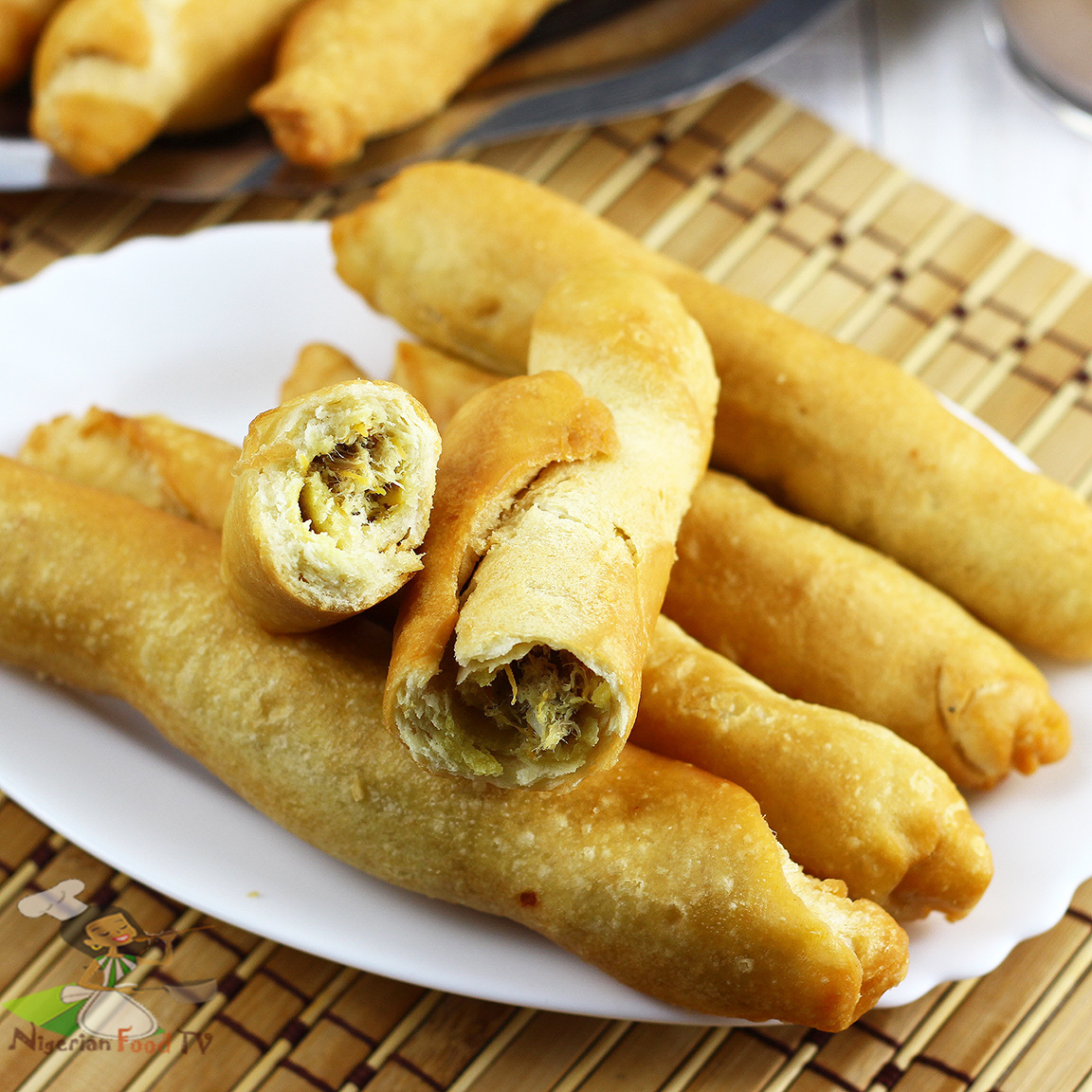 Related recipes: