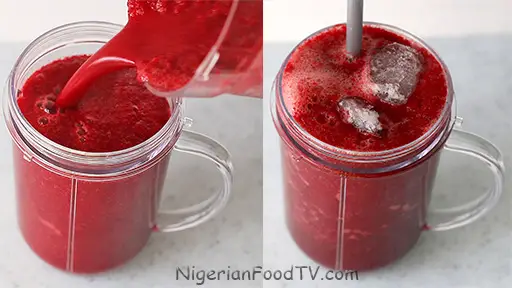 Beet  juice is a powerful drink which can be taking in  smoothie or juice form.
It is made up of a combination of  five  heart-healthy and immune boosting ingredients , which have been proven to help the body's metabolism and anti inflammatory functions. 
This is a must try drink if you ever feel fatigued , tired, sickly or have any symptoms of high blood pressure and lupus.
The five  ingredients used in this drink includes:
Beets contains betalains, flavonoids and nitrates which helps reduce inflammation by removing harmful compounds from the bloodstream
Apples reduce inflammation by strengthening the gut microbiome. Apple contains pectin which also has prebiotic benefits
Apples are very good for weight loss because they contain lots of flavonoids and pectin fiber and also very low in calories and keeps you full for longer.
Lemon juice is a loaded with antioxidants and helps kickstart your metabolism. It also gives you a feeling of fullness, thereby making you eat less and aids in weight loss.
Parsley is a powerful herb that contains lots of vitamins and antioxidants that helps with weight loss, improves your metabolism and also helps in detoxification.
Ginger is a very powerful herb that help suppress your appetite and helps reduce craving for food. And in that way you can also lose weight. It is also helps lower cholesterol, blood sugar, inflammation and high blood pressure
Apple cider vinegar  is optional but helps to reduce inner and outer belly fat, aids digestion, helps absorb minerals, reduces bloating, improves blood sugar levels, and boost immune system
Combine all these together and you have a superfood to help you blast your belly fat and also help you lose weight.
Drinking this beet juice- anti-inflammatory drink combo has been very helpful in reducing  symptoms like pain, weakness, stomach aches and swelling associated with arthritis, high blood pressure and lupus( Raynaud's).Take beet root juice  as oven as you can , preferable for 3 days and combine with a healthy lifestyle. One of the best natural remedies ever. Enjoy!
Ingredients for beet root juice  :
– 2 beet roots
– 1 large apple
– 1 thumb ginger
– half a lemon
– 1 large orange
-1 bunch parsley leaves
– 1 tablespoon apple cider vinegar
-500ml drinkable water (or more)
How to  prepare beet root juice for long life
Peel and cut 2 Beet roots
Cut 1 washed organic apple
Peel and dice a thumb sized ginger
Cut and juice half a lemon and one large orange, 
Wash a handful fresh parsley or mint leaves and 
Pour out a teaspoon of apple cider vinegar
Place all in a blender and blend with about 500ml water
Pour into a cup and drink every morning , as a fiber rich smoothie or pour through a strainer to drink as a juice
Note: if you own a juicer, you can place all the ingredients in the juicer and enjoy!
It's better taking as a smoothie because it's fiber rich, which keeps you full and helps your gut and digestive system
Beet root juice drink to fight inflammation and high blood pressure
Beet root juice is an anti-inflammatory drink combo very helpful in reducing  symptoms like pain, weakness, stomach aches and swelling associated with arthritis, high blood pressure and lupus( Raynaud's)
Ingredients
2 beet roots
1 large apple
1 thumb ginger
half a lemon
1 large orange
1 bunch parsley leaves
1 tablespoon apple cider vinegar
500ml drinkable water (or more)
Instructions
Peel and cut 2 Beet roots
Cut 1 washed organic apple
Peel and dice a thumb sized ginger
Cut and juice half a lemon and one large orange, 
Wash a handful fresh parsley or mint leaves and 
Pour out a teaspoon of apple cider vinegar
Place all in a blender and blend with about 500ml water
Pour into a cup and drink every morning , as a fiber rich smoothie or pour through a strainer to drink as a juice
Notes
It's better taking as a smoothie because it's fiber rich, which keeps you full and helps your gut and digestive system
Nutrition Information:
Yield:

2
Serving Size:

1
Amount Per Serving:
Calories:

145
Total Fat:

1g
Saturated Fat:

0g
Trans Fat:

0g
Unsaturated Fat:

0g
Cholesterol:

0mg
Sodium:

54mg
Carbohydrates:

37g
Fiber:

7g
Sugar:

24g
Protein:

3g