Fried meat pie (empanada) is a tasty, meat and veggie filled snack,
even though fried, it's extremely rich and delicious.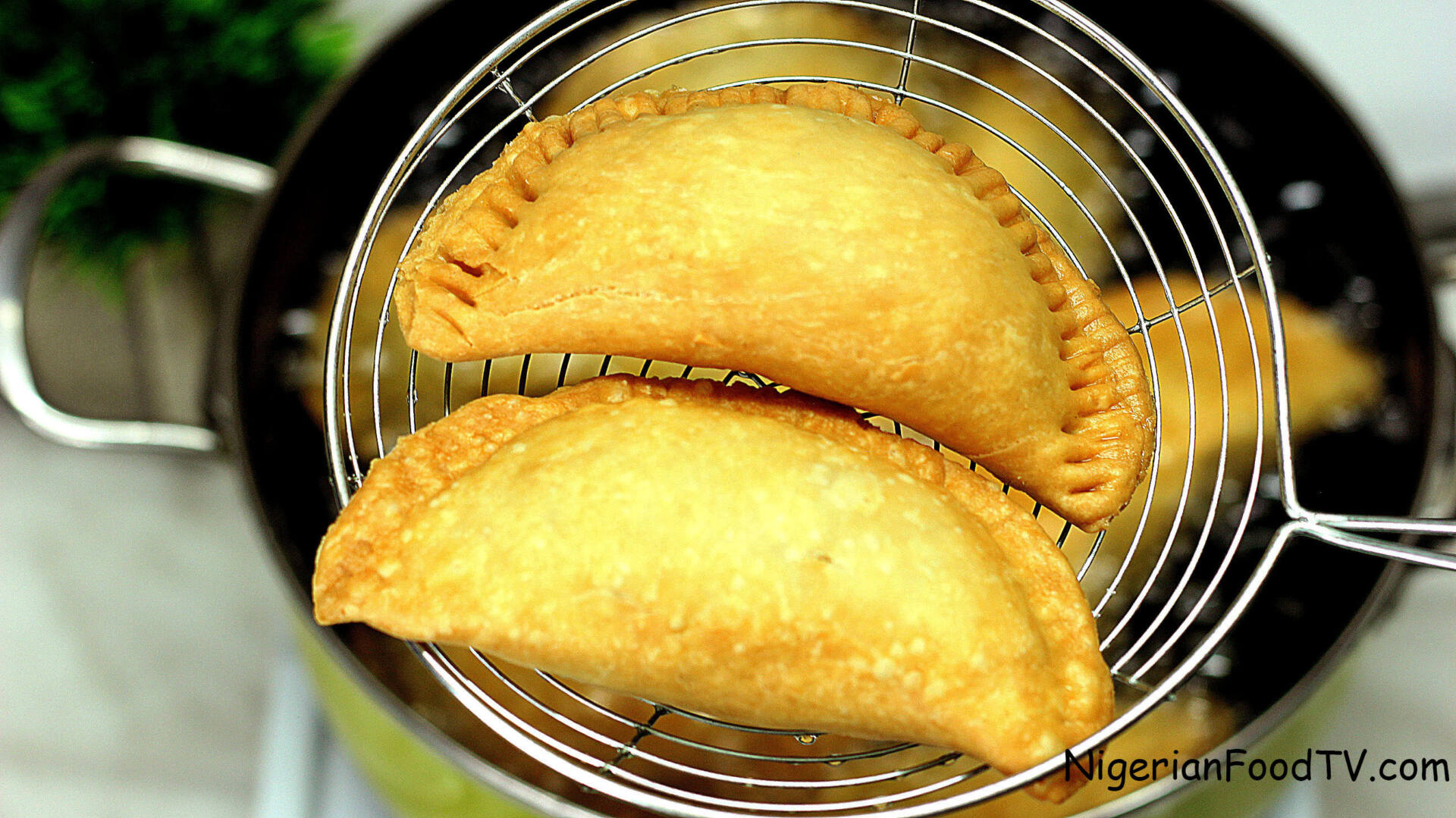 Empanada is like a fried version of the Nigerian Meat pie . 
It is originally a Latin American snack, popular all over the world for it's rich filling and flaky crust.
Unlike our Nigerian meat pie which is baked , Empanadas are usually deep fried.
Even though that is the case, it isn't soaked in oil, because the pies are transferred unto paper towels which absorbs any excess oil.
I have to admit that frying gives the meat pie a unique taste  that you won't get if it were oven baked;  although that is an alternative , if you are not a fan of fried goods, or will rather opt for a healthier option.
I like that the filling for the pies are very forgiving; meaning that you can make use of your choice of meat , veggies and spices and still get a  luscious mouth-watering and crowd pleasing snack.
Believe me  these delicious hand pies are a great addition to any party, get-together or festive occasions.
Here's how to prepare fried meat pie(empanadas), you'll also find an easy to follow video recipe here
Ingredients for Fried Meat pie (Empanada)
For the EMPANADA DOUGH- FRIED MEAT PIE DOUGH:
– 5 cups Flour ( All purpose flour)
– 1/4 teaspoon Salt 
– 1 tablespoon Sugar
– 2 whole Eggs 
– 120 ml Margarine(butter) OR 8 tbsp room temperature water
about 100 ml OR more until consistency is achieved)
For the Empanada filling- FRIED MEAT PIE FILLING
– 500 grams ground beef or pork
– 3 tablespoons Vegetable oil 
– 2 cloves Garlic 
– 1 large or medium sized Onions 
– 1 teaspoon  dried Thyme
– 1 teaspoon Black pepper or chili 
– I teaspoon Beef seasoning(OR bouillon) or Maggi or Knorr
– 1 tablespoon Soy sauce (OPTIONAL)
– 1 cup Potatoes 
– 1 cup Carrot
– 1/2 cup Red bell pepper
– 1/2 cup Canned sweet corn
– 1/2 cup Green peas
– Salt to taste
– 1 tablespoon Corn flour or all purpose flour
– 1 cup (250ml or more) Water 
How to make Empanada (fried meat pie)
– Heat up the 3 tablespoons of vegetables oil . Add 2 cloves chopped garlic &
one chopped medium sized onions and saute till fragrant
– Add 500 grams ground beef, pork or chicken and stir-fry for 2 minutes
– Add 1 teaspoon each of thyme, black pepper & beef seasoning and a tablespoon of soy sauce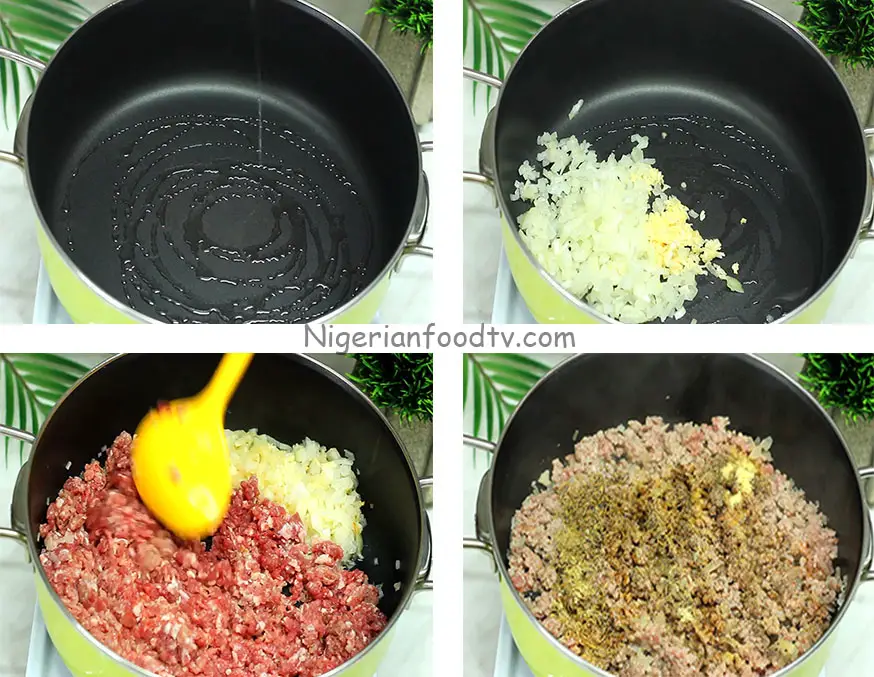 – Stir fry until the meat goes from pink to pale – the meat will absorb all the spices and taste richer
– Add the diced potatoes and carrot and just enough water to cook the vegetables
– Cover and let it cook until the potatoes are tender, that's about 10 minutes more or less
– Add 1/2 cup each of diced red bell peppers, sweet corn, green peas and salt to taste and cook for 5 minutes.
– Mix 1 tablespoon corn flour(starch)or all purpose flour with 2 tablespoons water, this slurry will serve as a binder and thickener for the filling
– Pour the mixture into the filling ,stirring constantly for a few seconds or until thickened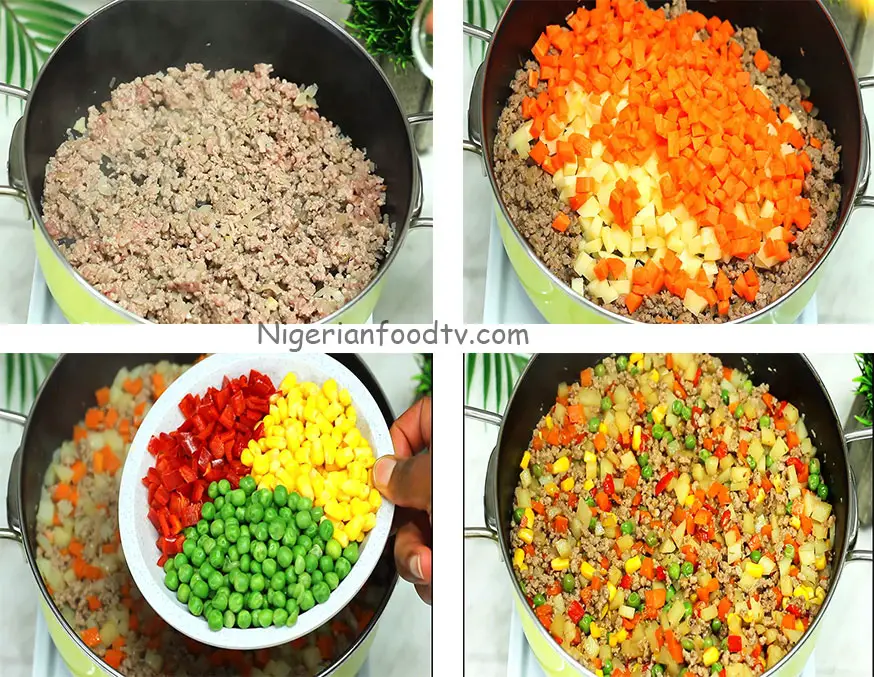 – Then take out of the heat and set the empanada (fried meat pie) filling to cool completely.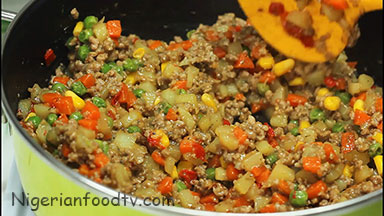 To make the empanada dough (fried meatpie dough)
– Mix 5 cups flour, 1 tablespoon sugar and 1/4 teaspoon salt together until combined
– Add 2 whole eggs and 120ml melted butter or margarine(8tbsp room temp) and mix well
– Add water gradually and continue mixing until the dough comes together
and not sticky
– Wrap in a cling film and rest in fridge for 20 minutes it allows the gluten in the flour to relax & absorb the liquid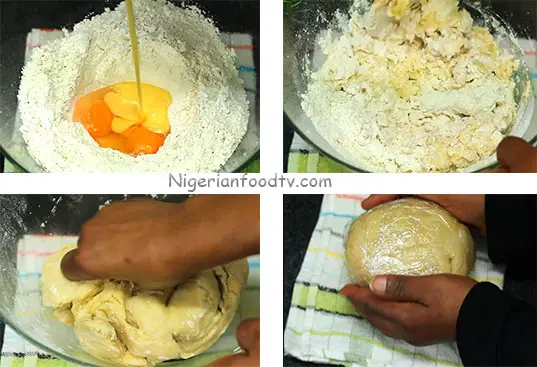 – Take out the dough knead a little and cut into two portions (that's after 20 minutes)
– Roll out the dough on a floured surface and using a circular mold, cut out as much circles as the dough allows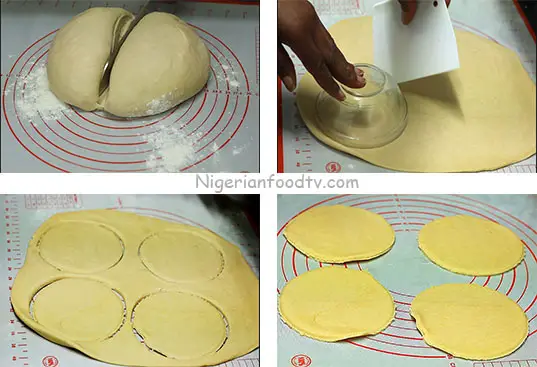 – Fill in the circles with the cooled filling and seal tight with your fingers and a fork

– Finally heat up some oil on medium heat until pretty hot and fry the empanadas (meat pies) until golden brown and crisp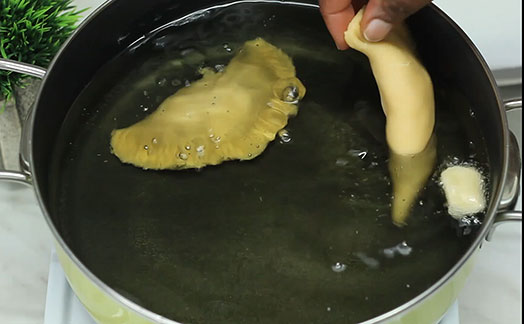 –Serve and enjoy with a chilled drink or hot beverage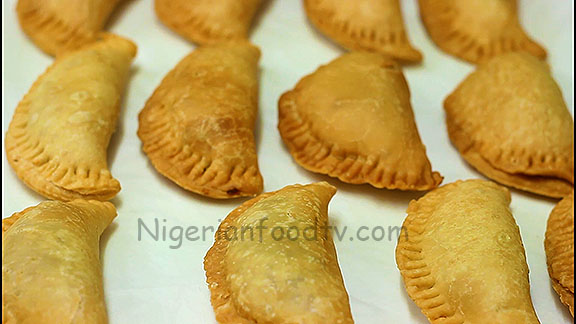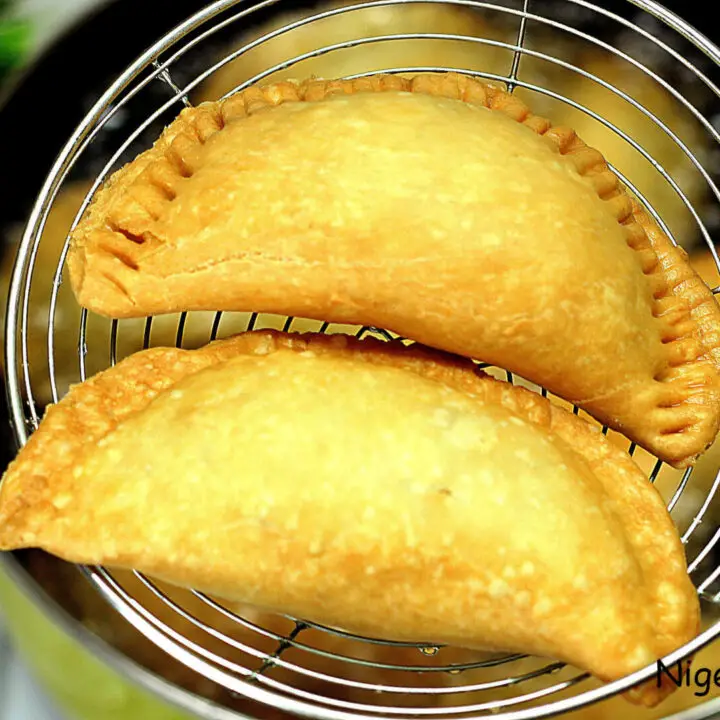 Fried meat pie (empanada recipe)
Additional Time:
20 minutes
Fried meat pie (empanada) is a tasty, meat and veggie filled snack, even though fried, it's extremely rich and delicious.
Ingredients
For the EMPANADA DOUGH- FRIED MEAT PIE DOUGH:
– 5 cups Flour ( All purpose flour)
– 1/4 teaspoon Salt
– 1 tablespoon Sugar
– 2 whole Eggs
– 120 ml Margarine(butter) OR 8 tbsp room temperature water
about 100 ml OR more until consistency is achieved)
For the Empanada filling- FRIED MEAT PIE FILLING
– 500 grams ground beef or pork
– 3 tablespoons Vegetable oil
– 2 cloves Garlic
– 1 large or medium sized Onions
– 1 teaspoon dried Thyme
– 1 teaspoon Black pepper or chili
– I teaspoon Beef seasoning(OR bouillon) or Maggi or Knorr
– 1 tablespoon Soy sauce (OPTIONAL)
– 1 cup Potatoes
– 1 cup Carrot
– 1/2 cup Red bell pepper
– 1/2 cup Canned sweet corn
– 1/2 cup Green peas
– Salt to taste
– 1 tablespoon Corn flour or all purpose flour
– 1 cup (250ml or more) Water
Instructions
 Heat up the 3 tablespoons of vegetables oil . Add 2 cloves chopped garlic &one chopped medium sized onions and saute till fragrant

 Add 500 grams ground beef, pork or chicken and stir-fry for 2 minutes

 Add 1 teaspoon each of thyme, black pepper & beef seasoning and a tablespoon of soy sauce

 Stir fry until the meat goes from pink to pale – the meat will absorb all the spices and taste richer

Add the diced potatoes and carrot and just enough water to cook the vegetables

Cover and let it cook until the potatoes are tender, that's about 10 minutes more or less

Add 1/2 cup each of diced red bell peppers, sweet corn, green peas and salt to taste and cook for 5 minutes.

 Mix 1 tablespoon corn flour(starch)or all purpose flour with 2 tablespoons water, this slurry will serve as a binder and thickener for the filling

 Pour the mixture into the filling ,stirring constantly for a few seconds or until thickened

 Then take out of the heat and set the empanada (fried meat pie) filling to cool completely.

To make the empanada dough (fried meatpie dough)

Mix 5 cups flour, 1 tablespoon sugar and 1/4 teaspoon salt together until combined

To make the empanada dough (fried meat pie dough)– Mix 5 cups flour, 1 tablespoon sugar and 1/4 teaspoon salt together until combined

Add 2 whole eggs and 120ml melted butter or margarine(8tbsp room temp) and mix well

Add water gradually and continue mixing until the dough comes together and not sticky

 Wrap in a cling film and rest in fridge for 20 minutes it allows the gluten in the flour to relax & absorb the liquid

 Take out the dough knead a little and cut into two portions (that's after 20 minutes)

Roll out the dough on a floured surface and using a circular mold, cut out as much circles as the dough allows

Fill in the circles with the cooled filling and seal tight with your fingers and a fork

 Finally heat up some oil on medium heat until pretty hot and fry the empanadas (meat pies) until golden brown and crisp

Serve and enjoy with a chilled drink or hot beverage