Chicken and shrimps combined together in well flavored and aromatized veggie fried rice, what else can you ask for.
Why buy from a restuarant when you can make a mouth watering and tantalizing chicken and shrimps fried rice at home?
When chicken and shrimp comes together in  a combo of rich veggies and rice, you know you are in for a good treat.
This recipe was meant to be published before Christmas, I actually had it in the archive for some weeks now, with the intention of making a quick video recipe to go with it; but it didnt work out as planned.
Fortunately, this shrimp and chicken fried rice , like most of our rice recipes can be enjoyed at any season and time of the year .
It can also be prepared in several ways but to save you some readability time, I'll only be showing you one of my favorite cooking methods for fried rice, but will be adding some tips on other methods too, so that at the end what we get is a delicious tasty and flavorful fried rice that would wow anyone at anytime .
I also have to add that this yummy meal was originally inspired  by my besties' chicken and shrimp paella, which I would be sharing in an upcoming post(with her permiso of course?), so stay tuned for that and without much ado, here's our no-fail shrimp and chicken fried rice. Enjoy.
++See the Classic Nigerian fried rice recipe and Coconut fried rice recipe++
Ingredients
500 gr long grain white Rice
500 ml Chicken stock/broth Or Water(check below ingredients tip)
100 gr cleaned Shrimps (fresh or frozen)
200 gr Chicken breast(fresh)
2 large Carrots
1 handful/50g Green Peas or Runner Beans
1 large Green bell pepper
1 large Onion bulb
2-3 tablespoonful Curry Powder
1½  teaspoonful Garlic Powder
½ tablespoonful Black or white pepper (optional)
 ½ teaspoon ginger powder/ grated ginger (optional)
 ½ teaspoon paprika (optional)
 1-2 Cooking spoonful Vegetable Oil
2-3 stock cube/seasoning cube(could be chicken or shrimp cubes)
 Salt (to taste)
Note: -you can also add sweet corn and red bell peppers for extra richness and color

Cooking Directions
1a. The first step is to prepare the ingredients for the  fried rice.
I always prepare the chicken stock  myself, you can see how that was done in this Nigerian fried rice recipe.
If you are in a hurry , simply dissolve about 2-3 stock cubes in  500 ml lukewarm water and set aside.
1b. Cut the chicken into tiny strips and marinate with a bit of all the spices you'll be using; then set aside to soak in the spices.
1c.  Next is to parboil the Rice using this method HERE;  then place the rice in a sieve to strain out the  excess water. Tip: some folks would rather not parboil their rice, but I am a big fan of this method and it works so well for me and gives me perfect non sticky fried rice at all times, as parboiling helps to reduce the starchy content of the rice which makes the grains to clump together when cooking.

Now to prepare the Vegetables
1d. If you haven't done this yet, wash all the vegetables. Peel the carrots skin & dice.
Cut the onion, de-seeds the green bell peppers & cut into small sizes.

1e. Blanch the carrots, by placing in boiling water for 2 minutes, strain out and place in a bowl of cold water, leave to cool in the water, then pour into a sieve and set aside.
Tip: It helps to par-boil the carrot without cooking it through, thereby cutting down the stir-frying process. It also helps to preserve its vibrant color . But If you like crunchy carrots, you can skip this step.
2. Now pour the chicken stock into a large pot and bring to a boil. As the stock begins to boil , add one seasoning cube, half of the diced onions, 1 teaspoon garlic powder, 2 tablespoons curry powder and salt to taste. Mix thoroughly and add the parboiled rice, Mix well and leave to cook on medium heat.
Tip: The liquid should be at almost the same level as the rice, so that it dries up completely when the rice is done.
3. When the rice starts to bubble, place the cleaned deveined shrimps on top of the rice and leave to cook until the rice is done, this takes about 45 minutes more or less.
Mix well, open the pot and leave the rice to cool a bit.
Tip: Another way I add the shrimps is by stir-frying it along with the veggies in step 5, so feel free to choose any method.
4. Now heat up the oil; add the chicken strips and stir-fry until chicken is cooked through, then transfer chicken unto a bowl. I like to go further and cut my chicken strips into tiny pieces, but it is not a necessary step.
In the same oil, pour in the diced carrots, peas and green bell pepper; then add the white/black pepper, ginger, and the remaining garlic, curry , paprika&seasoning cube to taste, stir fry for some seconds , then add the chicken strips , mix well and transfer the mixture into a bowl.
As you may already know, authentic fried rice CANNOT be classified as that, if it is not stir-fried, so we will be  stir-frying our Chicken and shrimp fried rice in the next step.
5. To do that we divide the stir-fried vegetables into equal portions depending on how much your frying pan/wok/skillet can take.
Place a portion of the vegetable mix into the pan; add a portion of the boiled rice and gently stir-fry for about 2 minutes.  You can taste for salt and spices and adjust if need be. Then transfer into serving bowl.
Repeat this process for the remaining boiled rice and veggie mix.
And finally you have a tasty, rich and heavenly delicious Shrimp and Chicken fried rice. You can serve with Honey Chicken, Salad, Asun(peppered goat meat), moi- moi  or fried plantains. ENJOY!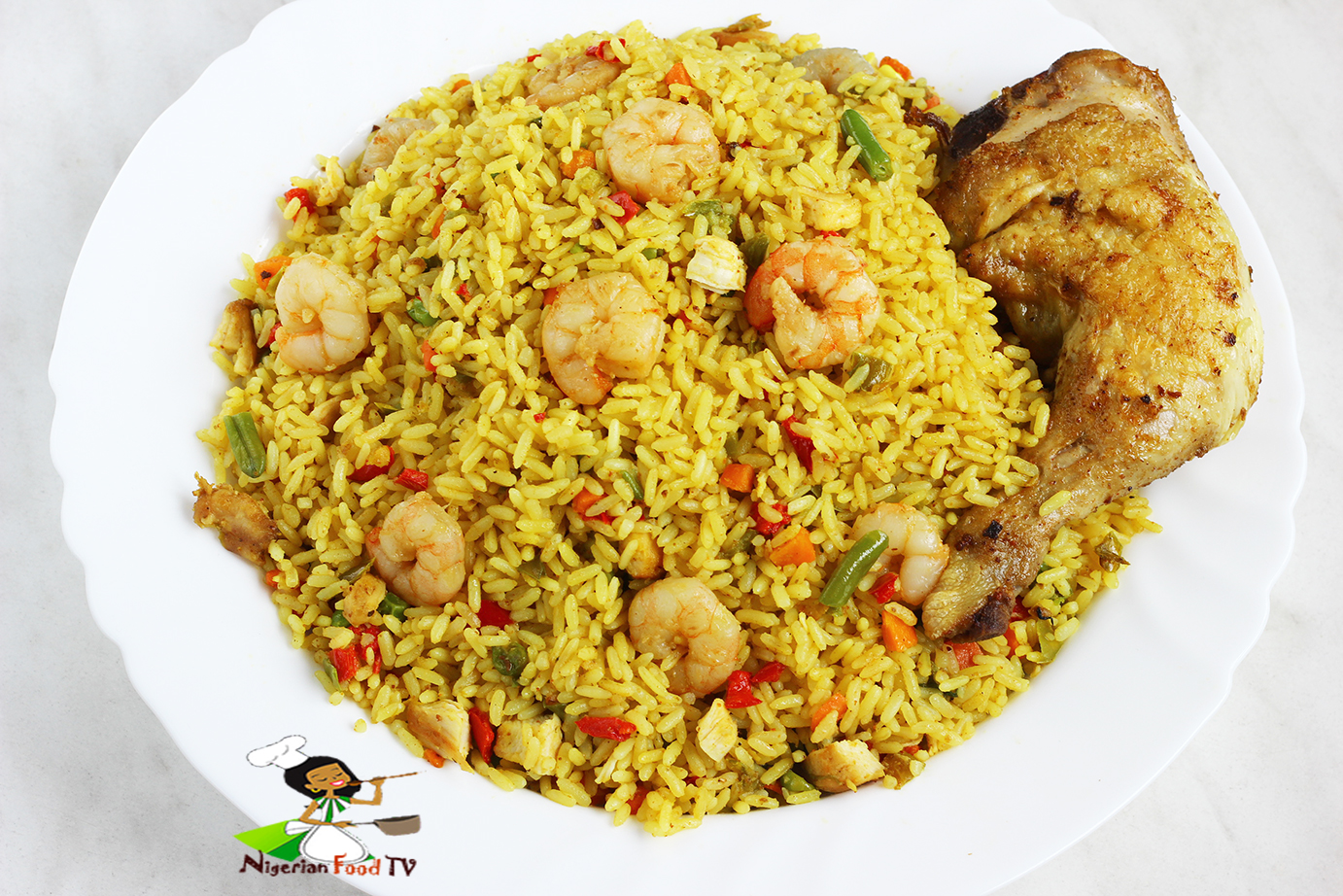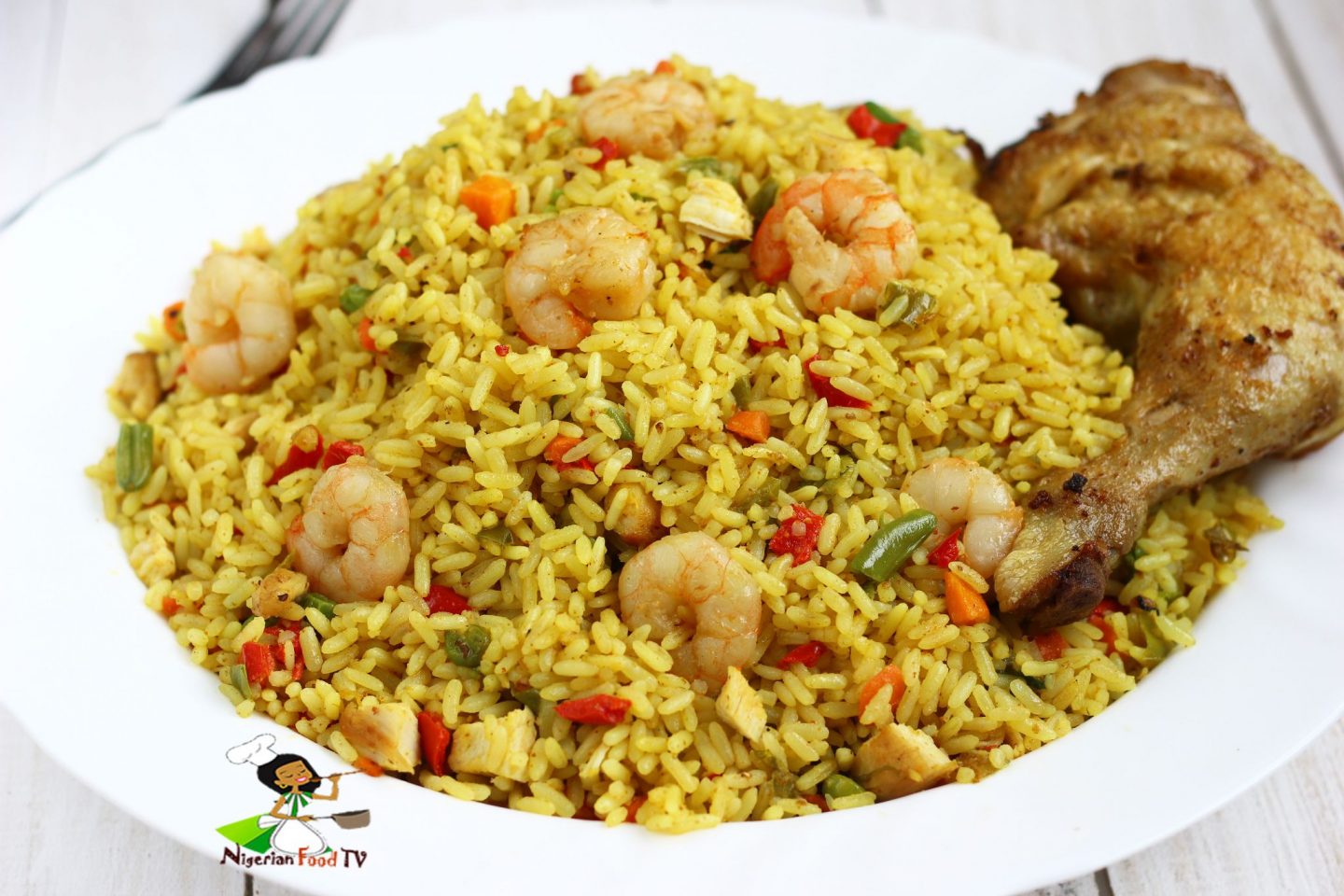 Don't forget to check out our other mouth watering fried rice recipes, which includes:
* How to Boil "Non-soggy" White Rice for Nigerian Stews and Sauces
……We love to hear from you, please leave a comment below and let us know what you think about this recipe and  and also if you prepare yours differently ?
Click to follow us on instagram  and see what people are saying