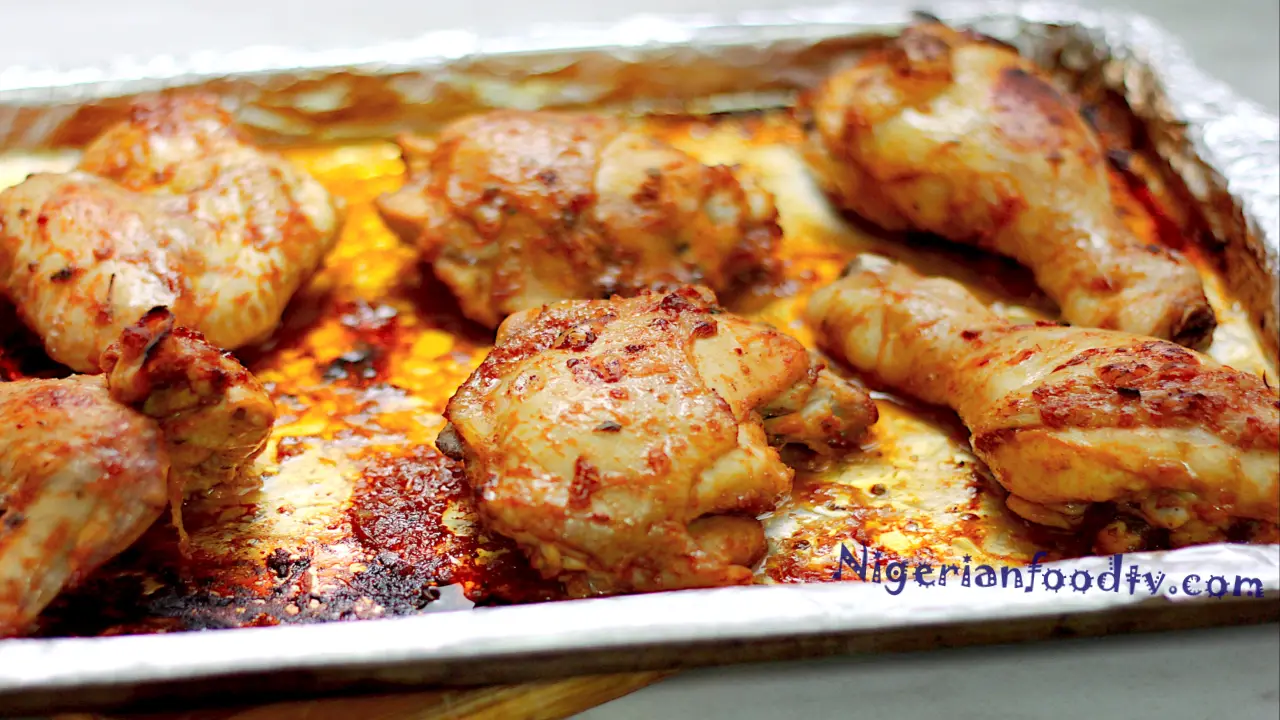 Spicy Honey Garlic Chicken with Ketchup Soy sauce Marinade ; 
I guess the name says it all.
This juicy Chicken is spicy, herby, sweet and honeyed with a bit of tangy and of course garlicky taste.
Not so garlicky that your breath smells and wreaks of garlic, Oh Not at all! but instead it has an aromatized, nutty, delicate taste.
And with the blend of the other spices used, this honey chicken is a must try for everyone.
If you are not a big fan of spicy, worry not! you can make use of less pepper or simply leave it out. Believe me, it doesn't mess up the recipe. I actually make  a special non-spicy batch for my little children and you bet they love it.
Now enough of the chatter, here's our spicy honey garlic chicken, brushed down with ketchup and soy sauce marinade.
Trust you'll enjoy.
–If you are a visual learner or you prefer videos, here's a detailed but short recipe video–

Ingredients:
1,5 KG Chicken)( I used 2 thighs, 2 drumsticks, 2 large wings)
2 tablespoon Ketchup
2 tablespoon low sodium Soy sauce (or Maggi liquid seasoning)
2 tablespoon Honey
2 tablespoon Olive oil(or sunflower/ canola oil)
1 tablespoon minced Onions(1 teaspoon onion powder)
1 tablespoon minced Garlic (1 teaspoon garlic powder)
1 tablespoon hot Parika pepper (mine is mixed with a little cayenne, so use less if you don't want too spicy)
1 teaspoon dry Oregano/thyme(optional)
1 teaspoon Curry powder(optional)
1\2 teaspoon Ginger powder
1\2 teaspoon White/Black pepper
1\2 Salt (or to your taste, 'cos the soy or Maggi liquid seasoning is already salty)
Preparation:
Combine the ketchup, Soy sauce (or Maggi liquid seasoning) , honey and oil together in a small bowl.
Mix well until combined.
Add the other spices ( onions, garlic, hot parika pepper, oregano/thyme, curry, ginger, white/black pepper and salt ; and mix thoroughly.
Place the chicken in a ziplock bag or a large bowl, then pour about 3\4 of the mixture into the bag or bowl(set the remaining one aside for later use); mix well until the chicken pieces are well saturated with the spicy sauce.
Leave to rest in the refrigerator or a cool place to marinade for 1 to 2 hours(if in a hurry you can skip this step, but it helps to give the honey ketchup chicken an extra boost of taste and flavor).
About 20 minutes before the chicken is done marinating, preheat the oven at 400F(200C) and line a baking tray with thin foil(this helps to make cleanup easy).Then pour in the marinated chicken onto the lined tray, spread out the chicken(skin side up) so they are not touching and bake in the oven for 20 minutes.
Take the chicken out of the oven and flip each piece of chicken over(skin side down).Return to the oven for 10 minutes so that the other side can bake evenly.
After 10 minutes, take out the chicken and brush on the remaining chicken marinade(in step 3); flip over(skin side up) and also brush that side with the mixture. If you like to lick off sticky sauces from your finger, you can brush on more ketchup marinade, as you like-
Now return the spicy honey garlic chicken to the oven and bake for 10 minutes more. Take out of the oven , serve and enjoy.
Serving suggestion: I served this Spicy Honey Garlic Chicken with rice, but  hubby enjoys his on the go, and the children loves theirs with our tasty herby mayo- ketch dip .