Nigerian Yam Porridge with vegetables is a tasty meal you have to try out.
It is prepared with a combination of yam and fresh green vegetables. A sure healthy way to eat carbs and get your veggies in.
In some regions and homes in Nigeria, it is common to add a few extra ingredients and condiments, such as fresh or dried fish, stockfich, fresh or smoked prawns and a lot more, all with the sweet purpose of enriching the yam porridge.
However, you don't need a lot of ingredients to make this delicious meal . Here's an easy recipe for you. Enjoy!
Click here for a video recipe on How to cook Nigerian Yam Porridge with Vegetables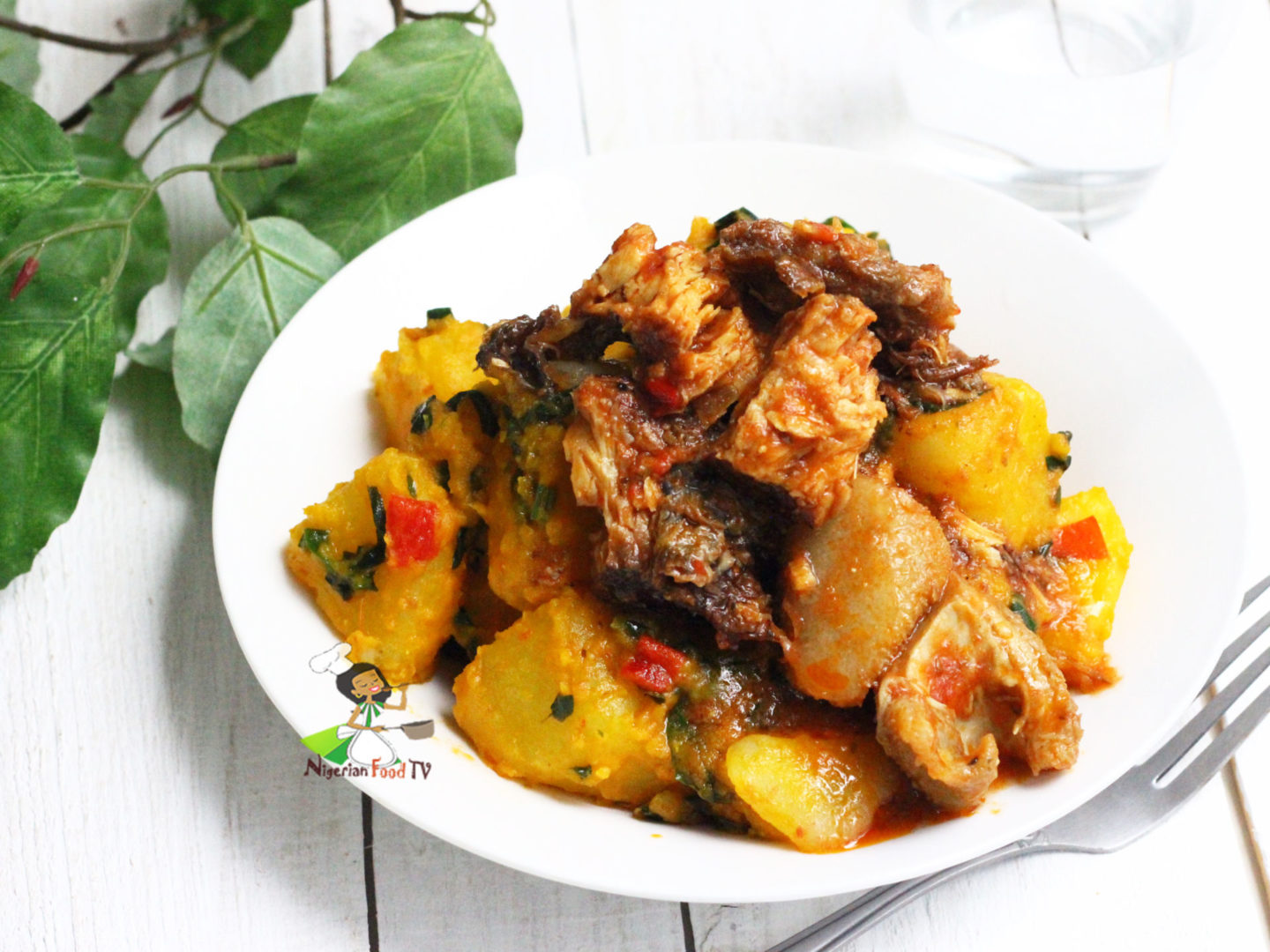 Ingredients:
– 1 medium sized tuber of Yam
– 500 grams Spinach/fluted spinach leaves(ugu)
– 2 cooking spoonful Palm Oil
– 1 Pepper (scotch bonnet /atarodo/cameroun pepper)
– 2 tablespoonful ground Crayfish
– 1 bouillon/stock cube
– 1 onion bulb
– Smoked or cooked dried fish(optional)
– Salt to taste
Preparation:
1. First, cut and peel off the skin of the yam. Rinse thoroughly and place in a pot.
Add some water and salt to taste, and leave to boil for 15 minutes.
2. Now add the palm oil, chopped onions, ground crayfish, pepper, stock cube and cooked dried fish/smoked fish and cook until the yam is done(tender).
3. Add the sliced vegetables and simmer for 3 to 5 minutes and your Nigerian Yam Porridge with Vegetables is ready.
Nigerian Yam Porridge with Vegetables is usually eaten anytime of the day and enjoyed with a chilled drink.
Here`s a plain yam porridge recipe with veggies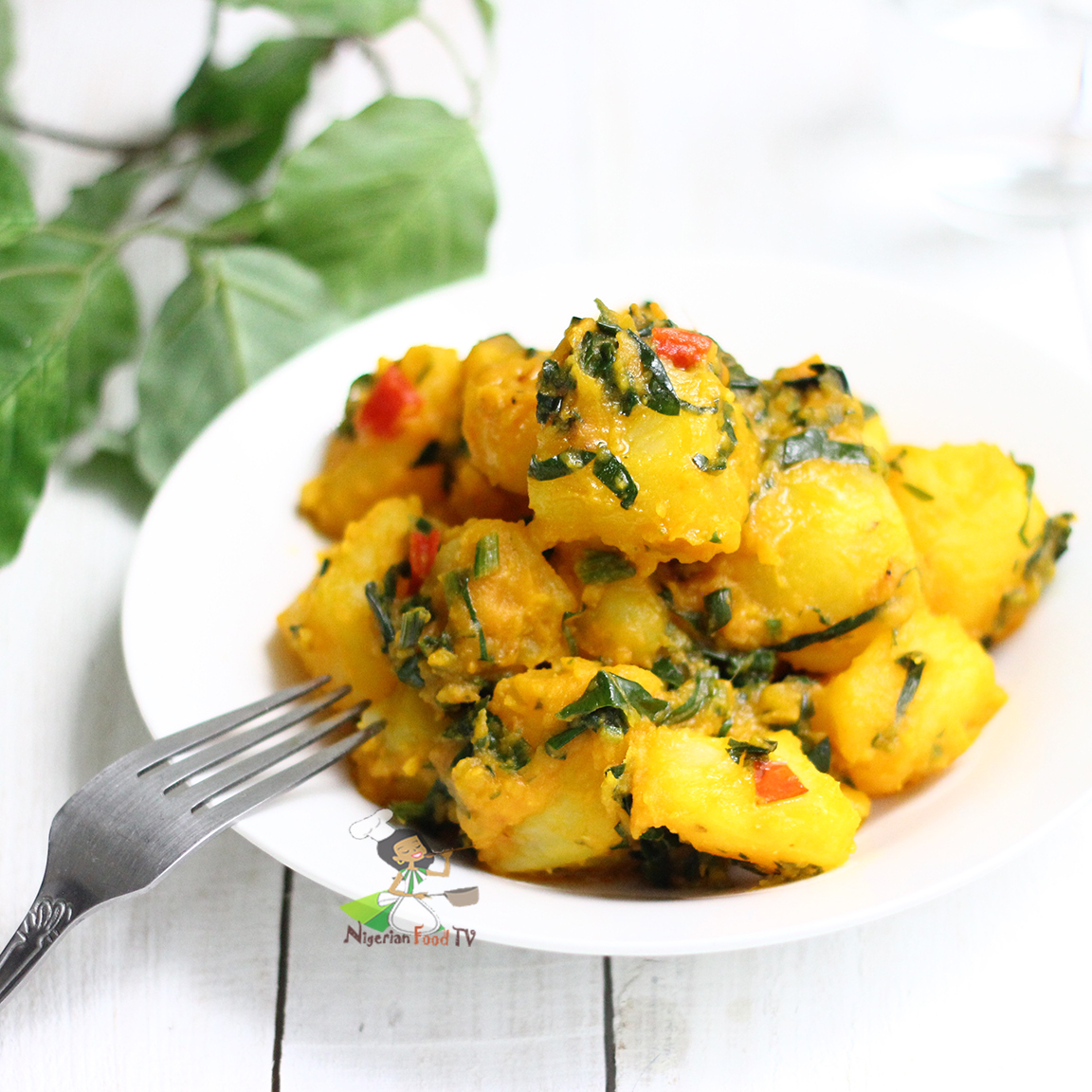 And here's one , just the way I like it.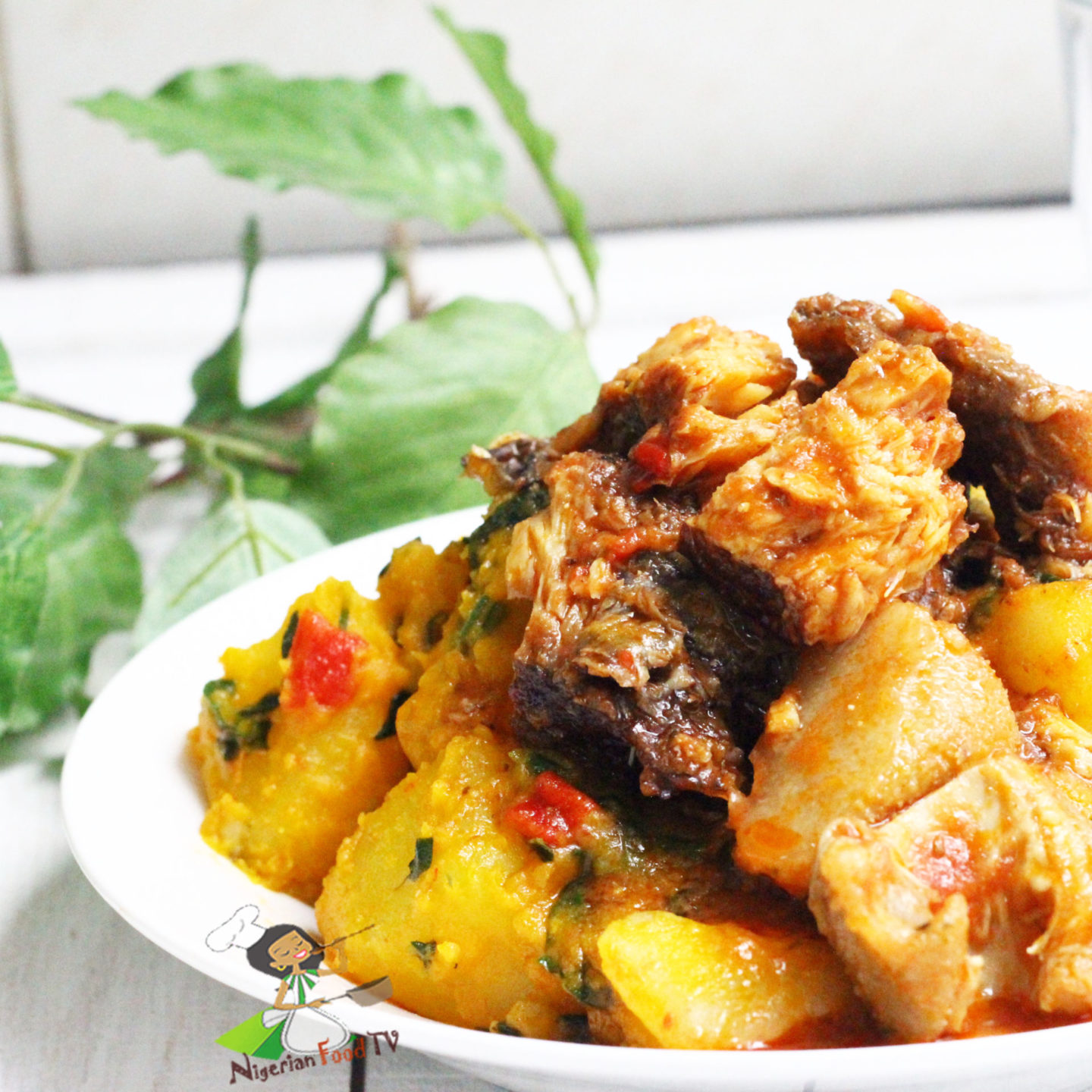 Here's the yoruba style yam porridge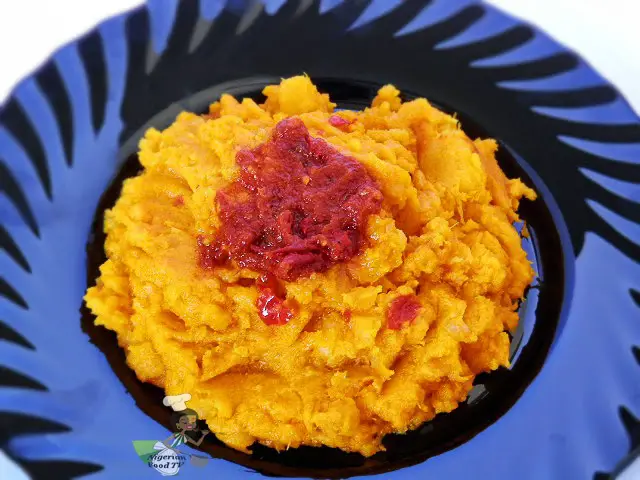 Nigerian Yam Porridge with Vegetables (Asaro Elefo)
Nigerian Yam and vegetables; easy, quick and simply delicious.
Ingredients
1 medium sized tuber of Yam
500 grams Spinach/fluted spinach leaves(ugu)
2 cooking spoonful Palm Oil
1 Pepper (scotch bonnet /atarodo)
2 tablespoonful ground Crayfish
1 bouillon/stock cube
1 onion bulb
Smoked or cooked dried fish(optional)
Salt to taste
Instructions
First, cut and peel off the skin of the yam. Rinse thoroughly and place in a pot.Add some water and salt to taste, and leave to boil for 15 minutes

Now add the palm oil, chopped onions, ground crayfish, pepper, stock cube and cooked dried fish/smoked fish and cook until the yam is done(tender).

Add the sliced vegetables and simmer for 5 minutes and your Nigerian Yam Porridge with Vegetables is ready.

Serve and Enjoy