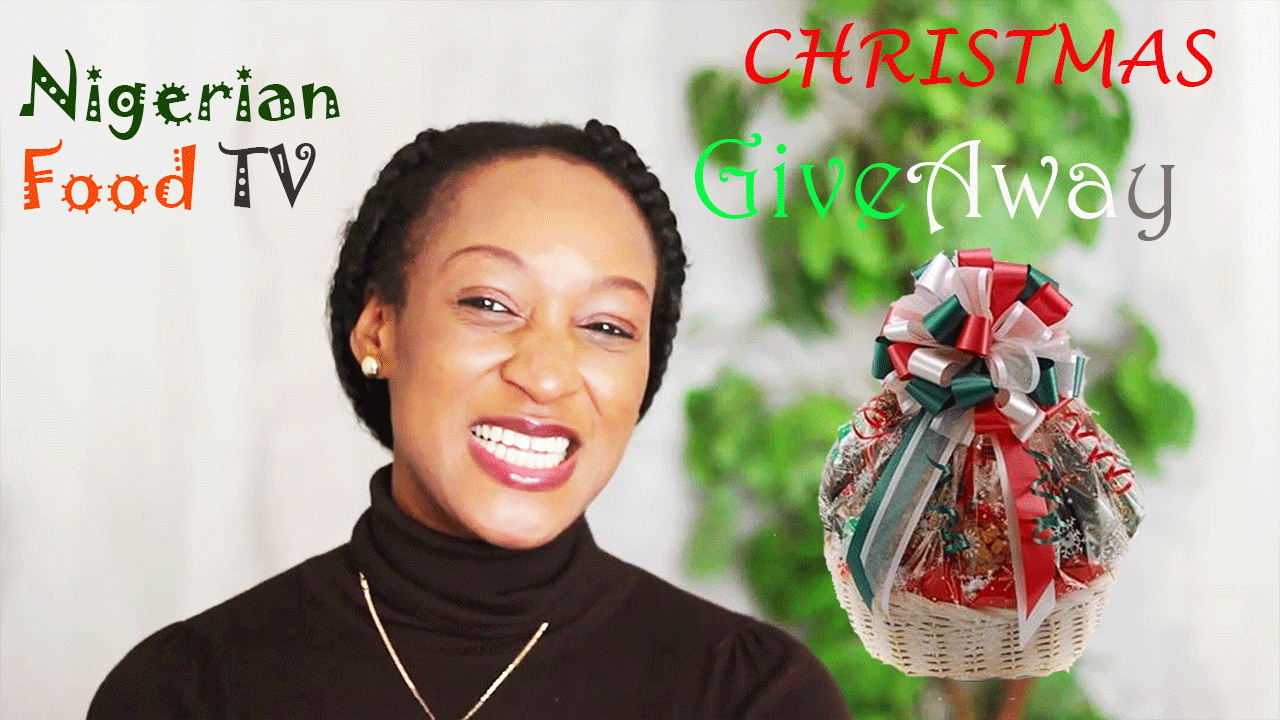 Hi there! How have you been and what have you been up to?
We miss you loads.
I know it's been a while… OK, a loooooong while since you got a recipe or a post from Nigerian Food TV.
I'm so sorry.
We are doing quite well(thanks for asking 🙂 ); just had a lot on our plate .
But we,re glad to be back again. And back with a Christmas giveaway. Yay!
Below is a short video on why we have been away and also details on how to participate.

The Giveaway: (IS NOW CLOSED)
– Four (4) winners will be randomly selected (one from each of the platforms (Youtube, Facebook, Instagram and the Website mailing list here).
The gift is a hamper or gift basket filled with yummy treats and basic food ítems.
And the collection point is in Lagos, Nigeria-
Giveaway ends at 11:59 p.m., 30th of December 2018 EST.
Giveaway Rules & How To Enter :
1. Must be a subscriber and follower on two (2) of our platforms( Youtube, Facebook, Instagram and the Website mailing list(this can be found below the page on mobile, but on a laptop/tablet, you'll find it on the right hand -top side of the page, below the about me photo)
PS: Make sure you confirm your subscription. (Fake or multiple accounts will be disqualified).
2. Must leave a comment here or on any of our other platforms, telling me your favorite Nigerianfoodtv recipe(see recipes here) and what you'll like to see in upcoming posts or videos.
Please be sure to enter a real name and valid email address so that I can notify you if you are selected.
3. Bonus entries:
a. Share or email this post to a friend or someone you think might be interested in this giveaway.
On Facebook and Instagram, you can tag a friend- Remember, there's love in sharing, so don't be shy ??
b. Follow us on all platforms
4. This is an international giveaway (meaning that anyone in the world can participate) but the collection point is in Lagos, Nigeria (don't be discouraged, you can win it for a friend or relative , I'm sure they will be so thrilled )
5. Winning: The winner of the Giveaway will be announced on the website, facebook and Instagram.
6. Prize Claim: The Winner will be notified within few days of the drawing via email or DM on social media accounts.
Failure to respond timely, will result in forfeiture of the Prize and, in such case, an alternate winner, based on another random drawing will be chosen.
Good luck and Happy Winning!