Nigerian  Christmas is usually celebrated in style.
With lots of delicious and tasty home cooked meals;
Family and friends  from far  and wide laughing out loud , reminiscing old memories, catching up on the latest gist; and of course the big mamas exchanging contact info for wifey/husband material ☺.
And of course, kids chewing on yummy goodies and either watching an Xmas movie or running around while their moms' chase after them, with a ''Don't embarass me" look on their faces (okay maybe that was just my mom…lol)
  Aww such a lovely scenario– this is the perfect time to try out all those recipes you have  pinned, bookmarked and jotted out somewhere on your notepad.
Here's a list of meals, snacks and sweets you can prepare for your family this christmas; It is mostly the classic meals but with lots of additional specials.  Enjoy and cook up some joy.

 
You can also click here for videos of all these yummy Nigerian Christmas Recipes.
*Easy Fruit Cake (Christmas special)  This is surely a crowd pleaser and should have a special place on your christmas table .
* Gizdodo recipe (Gizzards and Plantains)

 * How to make Mayonnaise at home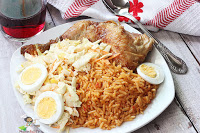 * Nigerian Grilled Fish Recipe
 * Veggie&Prawn stir-fry for Jollof Rice 
*Jollof Spaghetti – Spaghetti Jollof with vegetables
 *   How to Make / Extract Coconut Milk
*    Moi Moi 
* Asun Recipe ( grilled peppered goat meat)
* How to Boil "Non-soggy" White Rice for Nigerian Stews and Sauces 
 *   How to Parboil long grain white Rice(Nigerian  method)
 *   Coconut Curry Sauce (gravy) with Chicken   &Vegetables
  * Nigerian Cake (original recipe)
 * Nigerian Fresh Fish Stew (Obe Eja Tutu)
* Nigerian Tomato Stew (Vegan Stew)
*  Obe Ata Dindin : Nigerian Fried Pepper Stew
*    Nkwobi
*   Homemade Spring Roll wrappers
* Egusi Soup With Fresh Fish & Vegetables
* Catfish Pepper Soup (point&kill)
* Nigerian Goat Meat Pepper Soup
*    Nigerian Assorted Meat Pepper Soup
*    Sugar Coated Peanuts/Groundnuts
 Merry Xmas and a prosperous New Year and while you enjoy, please don't forget to give to the needy this Christmas, a little really goes a long way ☺.